A HSMA (Hungarian Strongman Association) és az Eurotrade Kft bemutatja: Kamionhúzó Bajnokság Eurotrade Liga 2019 Országos Döntő. A döntőt 3 selejtező előzte meg, amelyet az ország különböző pontjain rendeztünk. A selejtezőkön továbbjutott versenyzők most összemérhetik erejüket egyéniben egy 3 tengelyes Iveco Trakker elhúzásával.
Az OK Trucks kupára, mint külön versenyszámra az országos döntő összes versenyzője benevezett, mert egyedi, a versenyzők számára is szokatlan "kamion – vonat" húzásban mérettethetik meg magukat, vagyis 4 db, láncokkal összekötött nyergesvontató elhúzására tehetnek kísérletet. Ez a versenyszám csupán 2. alkalommal kerül megrendezésre Magyarországon!
Nézze meg a videót itt: Youtube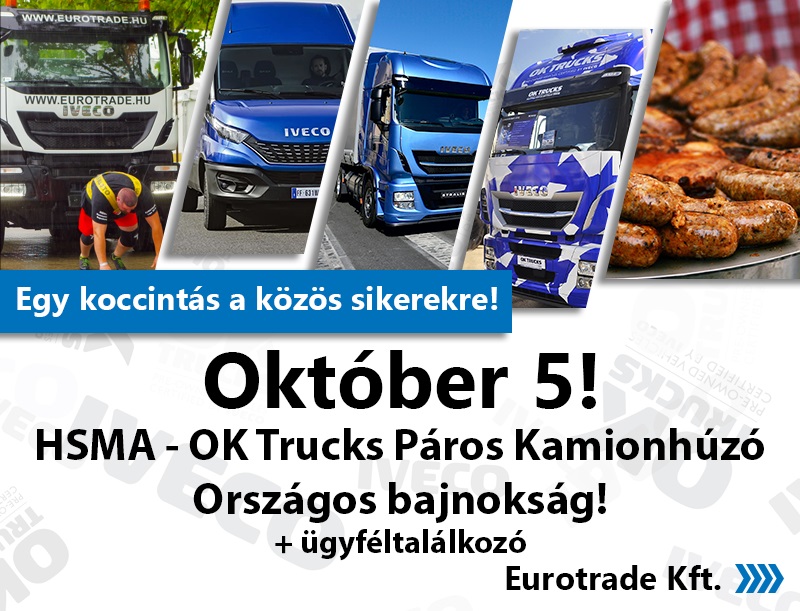 Kérem töltse ki az alábbi kérdőívünket. kollégánk rövid időn belül felveszi Önnel a kapcsolatot
Subscribe to newsletter
Get notified via e-mail on OK Trucks´ offers and news.